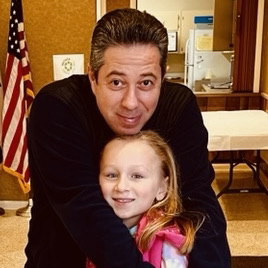 WELCOME TO TEMPLE EMANU-EL!
We are delighted that you have chosen to become part of our community. We hope that you will find membership an enriching experience and encourage you to explore the diverse opportunities for Jewish expression that our congregation has to offer.
Temple Emanu-El welcomes all who wish to find a home with us, including Jews-by-birth, inter-faith couples, Jews-by-choice, families, and singles.
The Temple welcomes new members on an ongoing basis throughout the year. To apply, one member of the family must be Jewish.
MISSION STATEMENT
Temple Emanu-El is a Reform Jewish congregation upholding the traditions of Judaism including Hebrew language, Tanakh, T'fillot, Mitzvot, holidays, customs, Jewish history, and Israel, while empowering members to cultivate their relationship with G-d and Torah.
Our mission is to cultivate and nurture the love and understanding of Judaism; to provide a warm and caring environment to nurture Judaism; to ensure the future of our Jewish community, commitment to Tikkun Olam, and to strengthen and serve our members.
VISION STATEMENT
The mission of Temple Emanu-El will be accomplished through the following values:
WORSHIP: uphold Jewish Reform rituals and traditions
EDUCATION & TORAH STUDY: the study of Torah is the foundation of our tradition, and teaches us the Jewish meaning of how to live our lives individually and as a community in an ever-changing world. We are dedicated to building and maintaining and understanding with other faith communities through education, study, communication and a respectful exchange of thoughts.
SOCIAL ACTION & ADVOCACY: striving towards Tikkun Olam.
COMMUNITY: to be a warm, caring, and welcoming community that offers support and friendship to the Jewish and non-Jewish community.
MEMBERSHIP
Temple Emanu-El offers two distinct membership options to best meet the needs of our members, a regular or full membership and an associate membership. The requisite for associate membership is listed below.
associate membership
1. former members who have moved out of the Wiregrass and wish to remain connected to our community, or;
2. new friends who reside at a distance too great to fully participate in Temple Emanu-El activities but choose to be spiritually connected to our congregation.
APPLY ONLINE
Information provided will be treated confidentially.
Please call us at (334) 792-5001 if you have any questions, need assistance in filling out this application, or would like to receive a membership application via e-mail or postal mail.
APPLY TO TEMPLE EMANU-EL ONLINE